Paarl Golf Club remains hopeful
In anticipation of a possible opening of the golf course after the president's speech last night I unfortunately am none the wiser today. We have been preparing ourselves to open within 24 hours should they have called that last night.
We are still hopeful that the Covid Command Council will look at the National golf application favorably in order to get us breathing again. I don't want to go into detail but all golf courses are currently trying to cut costs and make plans to survive this onslaught. Paarl golf Club is no different. We are working hard behind the scenes to see how we can make ends meet but the picture becomes more and more grim the longer they keep us locked down. We will have a special director's meeting on Monday the 18th of May 2020 after which I would be able to sketch the way forward for Paarl Golf Club.
Let us hold thumbs that we would be able to survive this and limb through to the time where we would be able to fully function again.
In the meantime, stay positive but more importantly stay healthy.
We are still unsure how low we will still be in lockdown before we would be able to play some restricted golf. This means that our Covid-19 Disaster fund will need some replenishment if we would like to continue our payment to our caddies and those personnel reliant on a fully functional golf course.
Should any member wish to further contribute to this fund please feel free to use the following bank account with the reference Covid-19 and your name. We will ensure that full transparency allows anybody insight into the eventual distribution of these funds.
Banking details
Bank: Nedbank
Branch code: 198765
Account number: 1470120097
Reference: Covid-19 and name
    Please respect the lockdown rules
on the golf course
We are still finding golf balls and divots on the fairways and even pitch marks on certain greens which indicate that there are still people hitting balls on the golf course.
Please realise that if we were to be seen as ignoring the lockdown rules, the police have the right to come and shut us down. Many police vehicles are driving past our estate daily and it only takes one of them seeing somebody playing golf or just even hitting a few balls that can end everything for all of us.
Please note that we have eyes and ears all over the course so if you are going to ignore this warning, we will find you and issue you with a fine of a non-affiliated visitor which amounts to R695 based on our approved cancellation policy.
Thanks again to Anville van Wyk with some support from Leon Cronje to identify the four gentlemen below.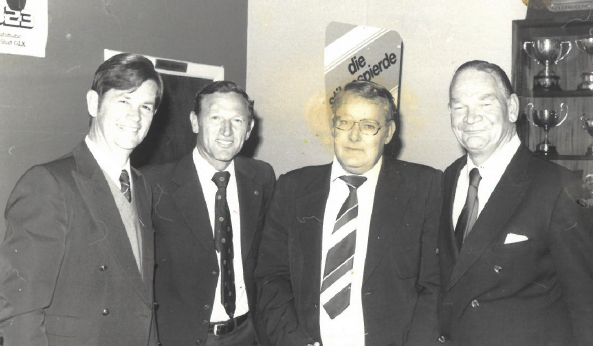 FLTR: MD of Mcarthy's in Cape Town (sponsor of the particular day), Percy Muggeridge, manager of the Paarl outlet of Mcarthy's. Then the late Henry du Toit, well known architect at the time and also captain of the club for 6 months. Far right is the late Dr Lochner Slabbert, probably the ost popular doctor at the time.
A beautiful joke was told by one of Dr Slabbert's lady patients at the celebration of his 80th birthday. She said that when they were both young, Dr Locchie would order her to take off most of her clothes and he would conduct a proper examination. But when they got older he just ordered her to stick out her tongue!
This week's photograph from the treasure chest is the one below. I sincerely hope that I would receive some feedback on who the gentlemen in the photograph are. Please e-mail me at manager@paarlgc.co.za if you recognise the gentlemen on the photo.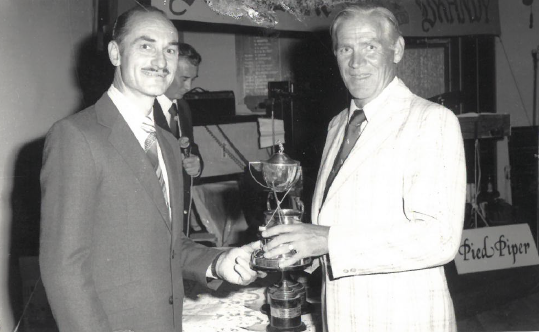 Know your birdies from your eagles
White Backed Duck (Witrugeend)
Thanks to Steph Lotz who made us aware of these ducks on the 22nd hole on Monday the 11th of May 2020.
Description
The White-backed Duck, also called the African White-backed Duck, is from sub-Saharan Africa. Pink-necked or Striped might be a more appropriate name since their white backs are rarely seen(only in flight) They have a call reminiscent of the Whistling Ducks and a tail like the Stiff-tail Ducks but are not closely related to any other species of duck. These birds are well adapted for diving. On occasions they have been observed to stay under water for up to half a minute. These ducks live in watersheds and lakes where vegetation is not too dense. On land this bird doesn't appear to be very quick and they are slow swimmers. From danger, they also escape preferentially by diving; hence, the namesake white back is hardly visible in life.
Behaviour, feeding and breeding
They live in sn]mall groups and due to their diving ability they search especially for the bulbs of waterlilies, but also seeds and leaves of waterlilies and other water plants and the young feed on lake flies larvae as well.
They lay about 4-10 chocolate brown eggs which hatch in 26-30 days.
https://www.boschenmeergolf.co.za/wp-content/uploads/2018/07/Boschenmeer-logo-4-300x167.png
0
0
admin
https://www.boschenmeergolf.co.za/wp-content/uploads/2018/07/Boschenmeer-logo-4-300x167.png
admin
2020-05-15 06:17:38
2020-05-15 06:17:38
Paarl Golf Club remains hopeful