Members might have seen cameras being placed on two of the par 3s on the course. This new concept is part of the Hole-in-one Challenge where you can bet on yourself achieving a hole in one on these designated holes. For now, the 17th and the 23rd holes have been "activated" to do this.
The idea behind this is to allow golfers to bet on themselves hitting that perfect shot. Not only will you be able to get a video of that achievement, but you can also walk away with a handsome amount of money. That is if you placed a bet on yourself before you hit that hole-in-one.
For now you can bet either R20, R50 or R100 on yourself with the end result receiving R20 000, R50 000 or a whopping R100 000 (depending on the original amount invested) if you make that hole-in-one. Another positive to this partnership is that we as Paarl Golf Club get 10% of all the bets, which will hopefully allow us to extend this concept even further.
There are two ways to enter. You can either take a ticket at registration confirming the hole you are betting on and pay through the special terminal, or, for the more IT inclined, you can use your Zapper app at the tee box and scan the QR code at the hole to place your bet.
This would be the easiest and safest method as your time stamp will place you in the vicinity of the hole and the video footage will be able to confirm that. Should you achieve that perfect shot, you will then need to call the number provided on the board at the tee box to notify the Hole-in-one Challenge group and they will take over the administration of getting your winnings to you.
Please support this initiative seeing as the club will also benefit from it. The offer is also there to accommodate groups and corporates to allow the entire field to stand a chance of winning big.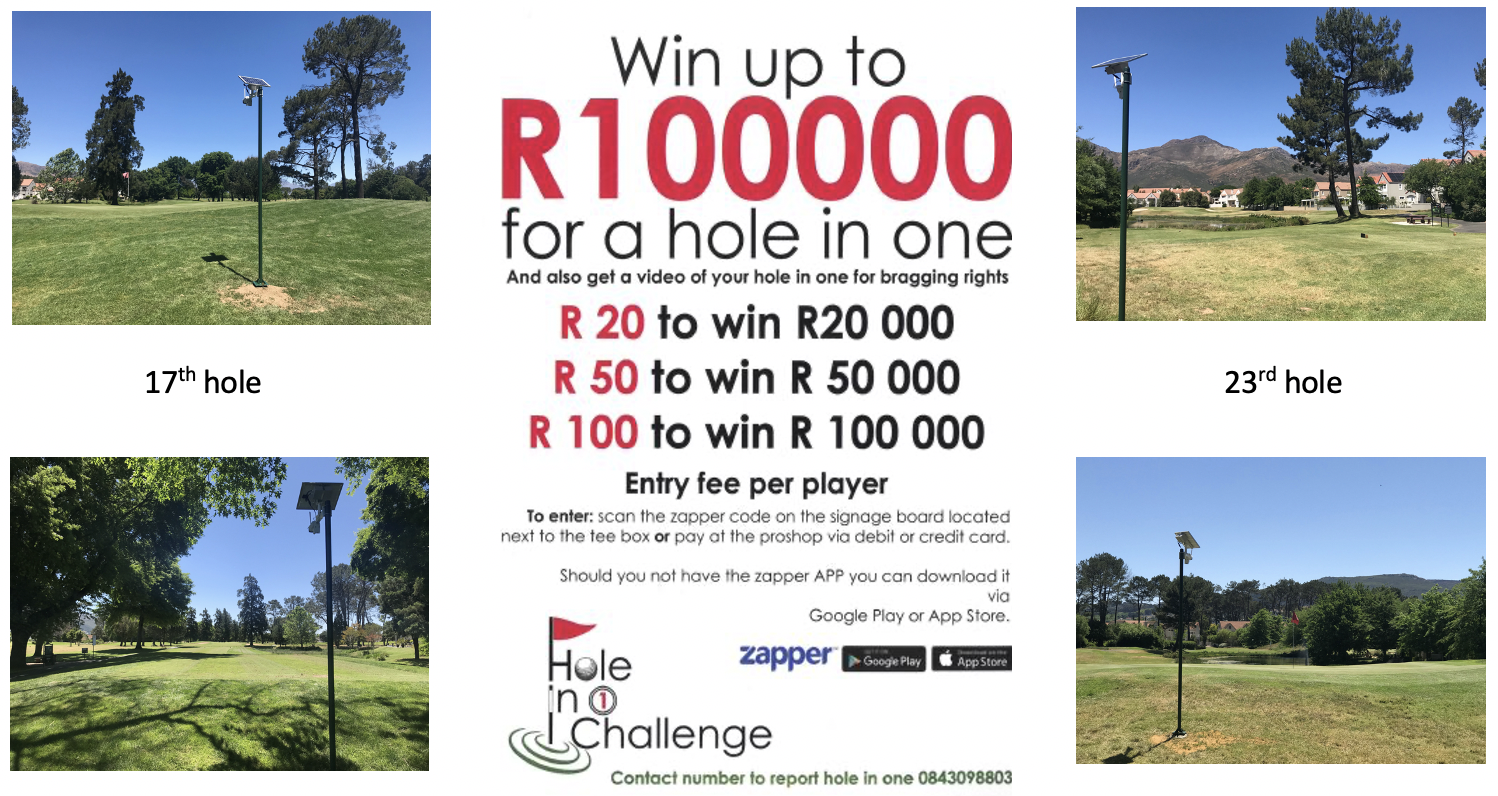 AGM to be held on 25th of November 2020
Members please note that we will hold our AGM on Wednesday the 25th of November 2020. Please diarise this date and the time of 18:30 for you to come and be part of Paarl Golf Club. Official notice will be sent out nearer to this date. Should you have any need for information please feel free to contact me at manager@paarlgc.co.za.
 Knockout results for the year 2020
Members would recall that during 2020 we had a few knockout competitions running. There were four categories namely A-Division Single, B-Division Single, Pairs and Mixed Pairs. After a few months of fierce competition, the winners can now be revealed.
The winners in the four categories were:
| | | | |
| --- | --- | --- | --- |
| | A-Division Single | – | Werner Bernhardt |
| | B-Division Single | – | Willem Pretorius |
| | Pairs | – | Irvin Kellerman and JP Hugo |
| | Mixed Pairs | – | Jacques and Loween Olivier |
Runners up in the four categories were:
| | | | |
| --- | --- | --- | --- |
| | A-Division Single | – | J L Swart |
| | B-Division Single | – | Fred Bowles |
| | Pairs | – | Ingrid Meter and Alida Kotzee |
| | Mixed Pairs | – | Maria Kirton and Gavin Blignaut |
Congratulations to all the winners and runners up. Please be on the lookout for the 2021 Knockouts that will start soon. There will be a formal registration process for all the categories and payment of the entry fee will have to be done when registering.
Marketing for this event will start soon and this year we hope to keep the log very prominent in our communications with you as members and the progress of the knockouts will be done weekly.
Captain makes a run for it
Our club captain has been keeping himself very fit for the Club Championships and in the process of training he started "challenging" the quickest time to complete nine holes of golf.
Below is proof that our captain Jacques Olivier, together with Antonie Botha, completed the first nine holes on the 27th of October 2020 in 40 minutes and 39 seconds and ran 4,43 kilometres in the process. For the fitness gurus amongst us they burned 523 calories. I think the tequilas afterwards consumed most of those calories.
Maybe this will kick off another kind of "challenge" to see who can clock the quickest nine holes at Paarl Golf Club. We might even think about a "Duracell Bunny" trophy.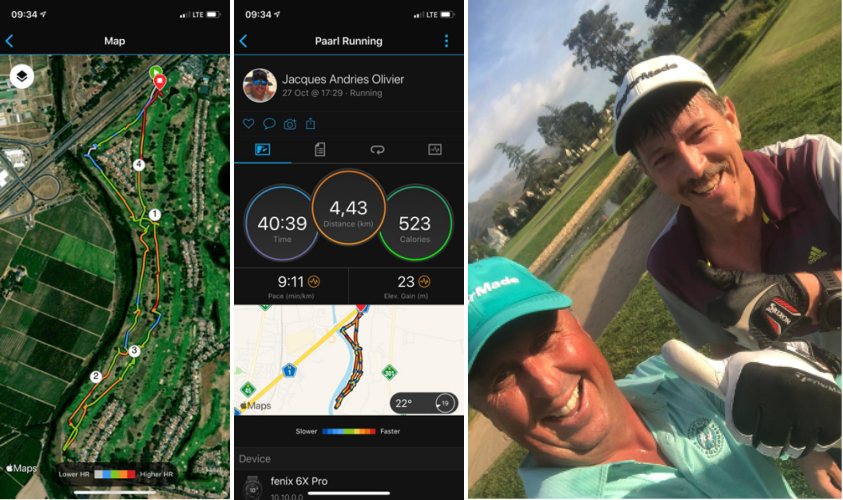 Left is the route they followed and in the middle is the technical summary of their run and on the right is the tired but happy twosome who did this. Congrats guys.
HNA propose handicap percentage introduction
This week we take a look at the recommended Competition Handicap Allowances from the World Handicap System (WHS) and explain how implementing these allowances will give golfers of all abilities and handicap levels a fair chance of winning.
Competition Handicap Allowance
Competition Allowances are recommended by the WHS to ensure that, in handicap competitions, all handicap groups have an equal opportunity of winning.
With the recent change to the maximum score allowed on a hole, golfers can now enter a maximum score of net 2 over par, meaning that golfers with a handicap stroke on a hole can enter a maximum score of 3 over par, while those with two handicap strokes on a hole can enter a 4 over par score.
While this change has brought us into the line with the rest of the world, it has also resulted in some issues with higher scores being produced and less equity among handicap groups when it comes to competitions. Statisticians from the major golf-playing countries in the world have modeled millions of competition scores and have, as a result, recommended that competition organisers implement Handicap Allowances for Betterball and Alliance competitions. This will give everyone a fair chance of winning.
The table below provides the recommended Handicap Allowances for our most common competitions.
Should you need any further detail please visit the HNA and WHS web pages and also feel free to contact our own Mr Rules, Steph Lotz, who will be able to explain the reasoning behind this and why the Captain's Committee as well as management of the club thinks that this is the correct thing to do.
Ladies become the diamonds amongst the jeans
Our Paarl Ladies Open Day was held on Tuesday 27 of October 2020 and our Ladies group once again made sure that lady golfers from all over the Western Cape would remember this particular day. The theme of the day was Diamonds and Jeans and the Winelands venue hall was converted overnight to a wonder world of jeans and diamonds.
Congratulations ladies for the effort and energy that went into this day. The many happy faces leaving the venue later that night were proof that you did well.
Next Club Draw – 20 November 2020
You can still get your entry into the club draw! The decision was made that those who did not have a ticket for the draw can still get one, but the buy-in remains the same at R1200.
If you want to do it by debit order you now will have to arrange with our financial department to determine the correct amount according to the date that you want to start. This means everybody can still buy-in so please let us do that because it is for a good cause helping the captains committee to create funds for projects on the course
Entries still open and the 2nd Draw draw takes place on Friday the 20th of November.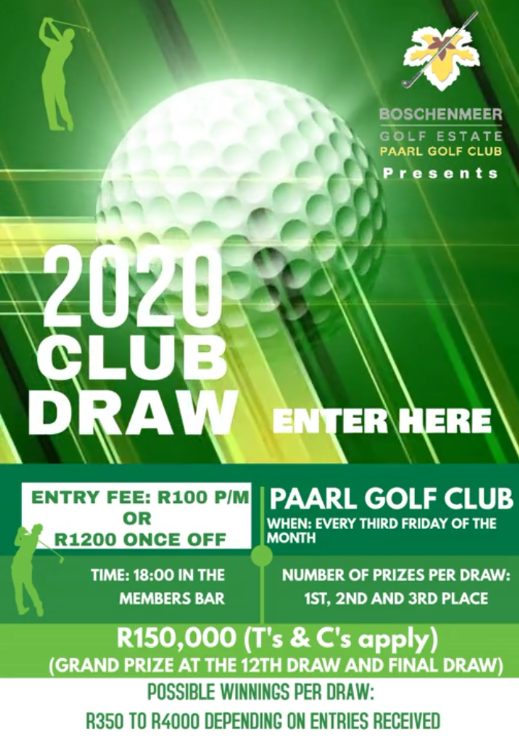 We have 82 entries!
 No drivers at the warm-up nets
Please note that you are not allowed to hit drivers in the warm-up nets. The force of the driver tears the netting far quicker than is planned. We thank you for understanding and your co-operation.
Spotlight Social registration
Win the wine of the month!
We are currently on 333 members so please put in some effort to register on the app. Number 400 next in line for a bottle of wine.
| | | | |
| --- | --- | --- | --- |
| | We are now on 333! | | For your efforts you can be next in line to win a bottle of wine with compliments from the "Wine of the Month". Thank you to the members that have registered so far. See how to win here. |
| | | |
| --- | --- | --- |
| | | |
| | | This week we get to know our 2020 Club Champion, Tyran Snyders. You are the worthy Club Champion of Paarl Golf Club and we wish you all the best for your golfing career ahead. We will follow you wherever you may find yourself on the world courses. Make us proud! |
If you would like to be part of our wonderful PGC community, let us know so that we can get to know you a bit more. How will anyone know what exotic drink to buy you otherwise?
How to Identify your Ball
A player was unsure on how to proceed to identify his ball in the rough. A player's ball at rest may be identified in any one of these ways, see Rule 7.2.
Know your rules >
  27 Hole Championship Pairs – 15th November 2020
The very first 27 Hole Championship Pairs is taking place on the 15th of November 2020. You can register as a 2Ball or 4Ball. Limited space available so book now. All you need to do is click on the poster which will take you to the entry form.
Playing golf at PGC during Level 1 lockdown
I know this might be boring by now but please realise that we are still under Level 1 lockdown rules, which have not changed since their inception.
Thanks to those members (and visitors) who makes our work easier by adhering to the regulations and rules. We appreciate your continues support and help. To the few that alway need to push the boundaries please realise that your actions might cause the club to close, and many other golf courses for that matter. It is not that difficult…
| | | |
| --- | --- | --- |
| Thanks to Franz Lohbauer who identified Deon Louw (left in the picture) The others remain unknown. | | |
| | | |
| | | Here is the photograph from this week's treasure chest. Please e-mail me at manager@paarlgc.co.za if you recognise anyone. |
Know your birdies from your eagles
        House Sparrow (Huis Mossie)
| | | | |
| --- | --- | --- | --- |
| | | | If you have a favourite bird or would like to know more about a particular species flying around PGC, please let us know so that we can do some research and showcase it in next week's Gazette. |
| | | | |
https://www.boschenmeergolf.co.za/wp-content/uploads/2021/05/Boschenmeer-Golf-Estate-Logo-2021-REPRO-PNG-300x167.png
0
0
admin
https://www.boschenmeergolf.co.za/wp-content/uploads/2021/05/Boschenmeer-Golf-Estate-Logo-2021-REPRO-PNG-300x167.png
admin
2020-11-09 05:07:01
2020-11-09 05:07:01
Our captain is fast, really fast