Last week the first many moons ago got some reaction to one of the guys next to Mr. John Vorster.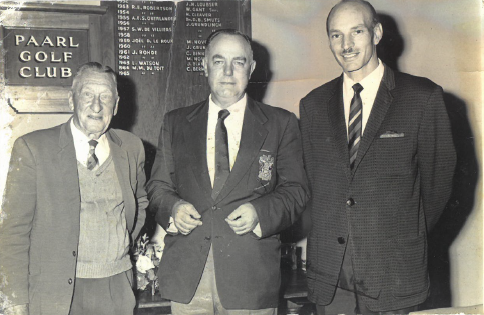 Machiel (Giel) du Toit whose son Ettiene is still a member at our club. Thanks to all of you who notified me. I still need a name for the man on the left
The photograph for this week from that treasure chest is the one below. I sincerely hope that I would receive some feedback on who the people on the photograph are. Please e-mail me at
manager@paarlgc.co.za
if you recognise any of the individuals on the photographs.
PGC Member Identification Disc
Paarl Golf Club members will from now on be easily identified through the PGC Member Indentification Disc that needs to be applied on the inside of your car's windscreen at the right-hand side top. In that way Boschenmeer security personnel at the gate could identify the members clearly for quicker access to the club during peak gate periods. These discs will be available for pick up from the registration desk from the 14th of September 2019. Please get one or two (if you sometimes use the missus car) and display that in the car to get member's treatment at the security gate.
Thank you all for your cooperation to make the security access easier and quicker.
Know your birdies from your eagles
Egyptian Goose (Kolgans)
| | | |
| --- | --- | --- |
| | | |
Photo courtesy: Alida Kotzee
Description
The Egyptian goose (Alopochen Aegyptiaca) is a member of the duck, goose, and swan family Anatidae.  It is native to Africa south of the Sahara and the Nile Valley.
Egyptian geese were considered sacred by the ancient egyptians, and appeared in much of their artwork. Because of their popularity chiefly as an ornamental bird, escapees are common and feral populations have become established in Western Europe.
Behaviour
This is a largely terrestrial species, which will also perch readily on trees and buildings. Egyptian geese typically eat seeds, leaves, grasses, and plant stems. Occasionally, they will eat locusts, worms, or other small animals.
Both sexes are aggressively territorial towards their own species when breeding and frequently pursue intruders into the air, attacking them in aerial "dogfights". Egyptian geese have been observed attacking aerial objects such as drones that enter their habitat as well. Neighbouring pairs may even kill another's offspring for their own offspring's survival as well as for more resources.
This species will nest in a large variety of situations, especially in holes in mature trees in parkland. The female builds the nest from reeds, leaves and grass, and both parents take turns incubating eggs. Egyptian geese usually pair for life. Both the male and female care for the offspring until they are old enough to care for themselves.
https://www.boschenmeergolf.co.za/wp-content/uploads/2018/07/Boschenmeer-logo-4-300x167.png
0
0
admin
https://www.boschenmeergolf.co.za/wp-content/uploads/2018/07/Boschenmeer-logo-4-300x167.png
admin
2019-09-11 11:00:46
2019-09-17 11:14:40
A conversation with Phillip Vosloo